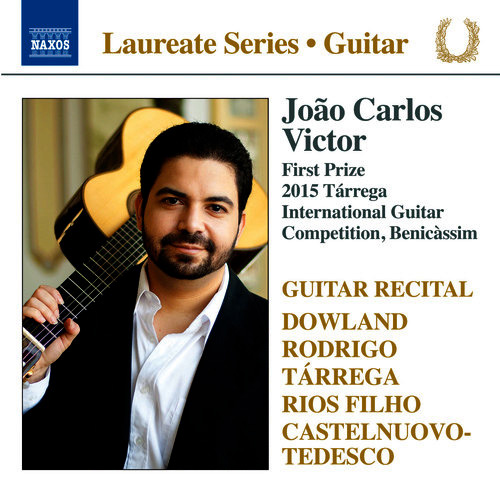 Joao Carlos Victor · Guitar Recital
First Prize 2015 Tárrega International Guitar Competition, Benicàssim
J. Dowland, J. Rodrígo, F. Tárrega, M. Castelnuovo-Tedesco,Paulo Rios Filho.
[ssba-buttons]
About the Artist
Audio Preview
Credits
João Carlos Victor
Ganador del 2015 Concurso Internacional de Guitarra Francisco Tárrega, Joao Carlos Victor nació en Salvador, Bahía, Brasil. Se graduó guitarra por la Universidad Federal de Bahía por clase el profesor Dr. Mario Ulloa.
En el año 2008 fue becado por el Servicio Alemán de Intercambio Académico (DAAD) para realizar estudios de postgrado en Alemania con el profesor Franz Halász en la Hochschule für Musik Nürnberg. Más tarde se trasladó a Suiza por el Master in Performance en la Hochschule für Musik de Lucerna, bajo la dirección del reconocido especialista en la música contemporánea Mats Scheidegger.
En julio de 2014, João obtuvo con la máxima puntuación el grado académico más importante en música de Suiza: el Master of Arts in Spezialisierter Musikalischer Performance Solist por Musik-Akademie der Stadt Basel en la clase  del aclamado guitarrista argentino Pablo Márquez.
Por su interés en la música contemporánea colaboró con compositores de reconocido prestigio y de distintas generaciones como: Sofia Gubaidulina, Paulo Costa Lima, Wellington Gomes, Paulo Rios Filho y Leonardo Boccia.
João también se dedica al estudio de la música antigua y tiene una amplia formación importantes  profesores: como Peter Croton (profesor de laúd de la "Schola Cantorum Basilienses"), Bettina Seeliger (profesora de clavecín de la "Hochschule für Musik Luzern '), Julian Behr (profesor laúd en la "Hochschule für Musik Nürnberg"), así como cursos con Paul O´Dette (laúd), Eduardo Eguez (laúd), Marieke Spaans (clavicembalista, última alumna de Gustav Leonhardt) y el dúo Maccari-Pugliese (dúo de guitarras románticas, siglo XIX).
Residiendo actualmente en Basilea, João continúa, en paralelo a la guitarra moderna, dedicándose a la investigación y el estudio de la música antigua, y guitarra romántica.
Grabado en: Rockaway Studios los días 14,15 y 16 de Enero de 2016
Ingeniero de Sonido: Javier Salvador
Sello: NAXOS
Grabación realizada como motivo del Primer Premio 2015 en el "Concurso Internacional de Guitarra Francisco Tárrega, Benicàssim"

GO TO NAXOS

[hfe_template id='91']