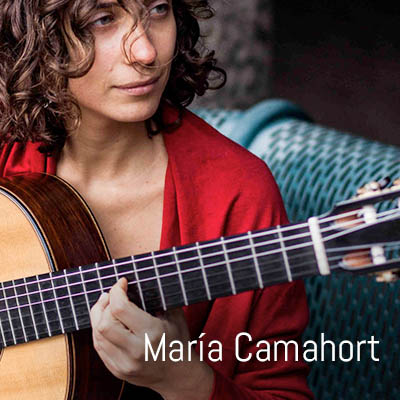 Maria Camahort
COMPOSER | ARRANGER | PERFORMER
Maria Camahort
Her unique sound and her devotion towards chamber music and collaborative projects has carried her to major concert halls of cities such as London (Milton Court, Southbank Centre, Kings Place), Paris (Salle Cortot), Saint Petersburg  (Glasunov Hall), Moscow (Scriabin Museum, Instituto Cervantes), Barcelona (L'Auditori), Madrid (Círculo de Bellas Artes), Edinburgh, Brussels (European Comission), Varsaw (Lutoslawsky Hall, Teatr Imka), Crackow, Mexico City, Chicago, Auckland… and performed in several festivals such as: City of London Festival, Bath Guitar Festival, London Guitar Festival, Buxton Festival, Kings Place Festival, Edinburgh Guitar Festival, Edinburgh Fringe Festival, Barcelona Guitar Festival, Vaults Festival, Chicago Physical Festival, Almagro Classical Theatre Festival, Festival de Teatro Clásico Ciudad de México, Francisco Tárrega Guitar Festival, Áureo Herrero Guitar Festival, Clásicos en Verano, FIAS Madrid, Mediterranean Guitar Festival, etc.
She lived in London from 2008 to 2017, developing a concert career where her facet as an arranger and composer was an essential element. This is the case of projects such as MCQ Iberian Colors, an original ensemble with whom she recorded two albums: Iberian Colors (2015, Convivium Record International), y Danzas, Canciones y Nanas (2018, JSM Records). Other relevant London projecs were the theatrical production Don Quixote de la Mancha (Little Soldier Productions), the musical The Last Five Years (Barbican Centre, 2010), and the classical duets with flutist Lucy Driver (Premi Pro-Musicis 2013) and soprano Laura Ruhí-Vidal.
In 2017 she returned to Barcelona, ​​where she combines her career as an instrumentalist (projects such as Naisa Duo, Libere ensemble or the duo with pianist Carles Marigó, with whom she has released her latest album, Keep My Cows) with her increasing activity as a composer. In 2020 she was awarded the Second Prize in the I Llobet Composition Competition for guitar, and the Second Prize in the Maria de Pablos III International Composition Competition (Don Juan de Borbón Foundation). Last February she premiered his work for string quartet "Nóos", commissioned by the FIAS 2021 festival (Madrid), and performed by the Bauhaus Quartet. She was recently selected by the SGAE Foundation for the 2020 premiere incentives and awarded with the first prize at for the Maria de Pablos IV International Composition Contest. Her latest commission is the arrangement for guitar duo of the works by E. Escudé-Cofiner, published by Boileau Music in October 2022. Her compositions for guitar and chamber music have been performed in Spain, UK, Belgium and Austria.
Last year she released two albums: Keep My Cows, SXVI and XVII revisited (together with pianist and improviser Carles Marigó), and Somorrostro, el mar baila en la playa (together with guitarist Anders Clemens Oien).
Maria completed her studies in Classical Performance at the Escola Superior de Música de Catalunya in Barcelona. Graduating with a distinction in her Master Studies at the Guildhall School of Music and Drama, she was awarded the prestigious Guildhall Artist Fellowship from 2010-12. Her main artistic influences are Emilio Molina, Feliu Gasull, David Dolan, Christian Burgess and Ramon Humet.
V Concurs Internacional de Composició Maria de Pablo (2021):
1er premi (obra: Ponent)
IncenBus SGAE a la Creació 2020 i 2021: Estrenes (obres: Broken Landscapes i Ponent)
III Concurs Internacional de Composició Maria de Pablo (2020):
2on premi (obra: Broken Landscapes) I
Concurs de Composició Certamen Miguel Llobet (2020):
2on premi (obra: Alba Nova)
Making Music Selected ArBsts 2016/17 – (Maria Camahort Quintet)
Pro-Musicis France ArBsts Award 2013 (Paris)
(Duo with Lucy Driver)
ROSL Music CompeBBon 2013 (London)
Finalist (Duo with Lucy Driver)
Música de Cambra "Vil·la de Ponts":
1st prize (Quartet Galiu)
XI CompeBBon l'Arjau:
primer premi and premi especial Música Catalana (Quartet Galiu)
XVII Edició Paper de Música de Capellades
finalistes (Quartet Galiu)
ArBstes seleccionats: Injuve
(Quartet Galiu)