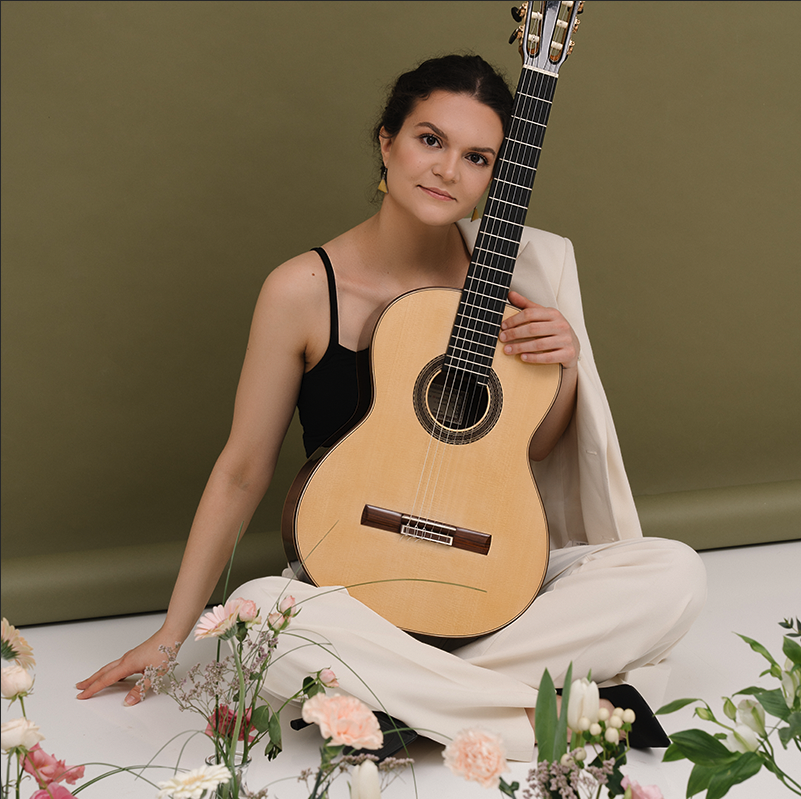 Ema Kapor was born in 1998 in Belgrade (Serbia) where she graduated from primary music school and music high school "Stanković" in the class of Professor Boris Đujić. Afterwards, she completed two years of studies at the Koblenz International Guitar Academy (Germany) in Professor Hubert Käppel's class. In 2021, she successfully attained her Bachelor diploma at the University of Music and Dance in Cologne, also in the class of Professor Hubert Käppel. Currently, she is studying for a master's degree at the University of Music and Media "Robert Schumann" in Düsseldorf, in the class of Professor Joaquin Clerch.
In 2014, she completed a course of the Summer Academy at the University of Mozarteum in Salzburg (Austria), in Professor Marco Tamayo's class. In 2019, she completed a course at the International Music Academy – MusicAlp in Tignes (France) in the class of Professor Judicaël Perroy. She participated at the Zbaszyn International Masterclass (Poland), held by Professor Lukasz Kuropaczewski, in 2019 and 2020.
Furthermore, she has attended masterclasses with many famous guitarists and pedagogues such as Oscar Ghiglia, Pepe Romero, David Russell, Costas Cotsiolis, Aniello Desiderio, Zoran Dukić, Alvaro Pierri, Marcin Dylla and others.
At guitar competitions, national and international, Ema has won more than 40 prizes: in Germany (Stuttgart, Oberhausen, Gevelsberg, Jüchen, Monheim, Velbert), Estonia (Tallinn), Austria (Vienna, Rust), Slovakia (Bratislava), Italy (Mottola, Alessandria, Gorizia), Greece (Molyvos – Lesvos, Hermoupolis – Syros, Volos, Thessaloniki), Croatia (Omis), Liechtenstein, Bosnia and Herzegovina, Serbia.
She has given solo concerts in Germany, Greece, Montenegro and Serbia and also performed in France, Poland, Spain and Austria. As a soloist accompanied by an orchestra, she has performed Joaquin Rodrigo's "Fantasia para un Gentilhombre" in Timisoara (Romania) and in Belgrade (Serbia) at the Guitar Art Festival 2019.
Ema Kapor is promoted by the organisation Yehudi Menuhin Live Music Now – Cologne, which arranges concerts in social and medical institutions, for people of all ages who otherwise would not be able to experience public concerts live. In 2019, winning the first prize at the Tallinn Guitar Festival, she became part of the EuroStrings Artists Exchange Programme, earning the opportunity to tour festivals of the EuroStrings Platform. Ema plays on a guitar made by Carsten Kobs.